drawing of a good dog whose life was cut short
A few months ago our family dog Angel passed away.  She was around eight years old and was probably the most unique dog I've ever met.  She would bark like crazy whenever somebody walked in the house, but was as gentle as a butterfly.  She loved chasing after squirrels, that is, until they chased after her and sent the eighty pound dog running in the opposite direction.  I've never met a dog that loved getting her paw pads rubbed more than Angel.  Not her head, her stomach, or her back, she loved to give paw and have people rub the pads.  I drew this picture in her memory for my dad.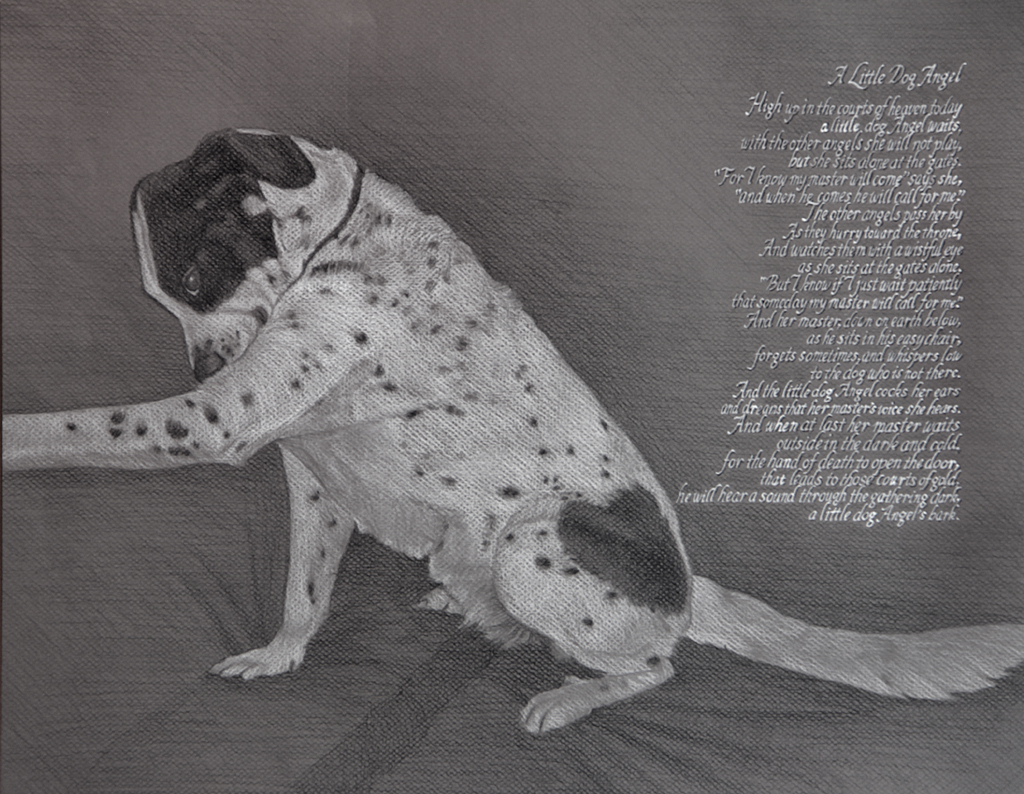 organically incorporating text in the drawing
The calligraphy was done with white ink, something a bit experimental for me.  I wanted to keep it hand-crafted and avoid printing onto the page.  Before Lucia and got married, I dabbled in calligraphy for the wedding invitations.  I'm not sure who the author of the poem is, but my mother and I found it perfect.  Here's the text in a more readable form.
A Little Dog Angel
High up in the courts of heaven today
a little dog Angel waits
with the other angels she will not play,
but she sits alone at the gates.
"For I know my master will come" says she,
"And when he comes he will call for me."
The other angels pass her by
As they hurry towards the throne
And watches them with a wistful eye,
as she sits at the gates alone.
"But I know if I just wait patiently
that someday my master will call for me."
And her master, down on the earth below,
as he sits on his easy chair,
forgets sometimes, and whispers low
to the dog who is not there.
And the little dog Angel cocks her ears
and dreams that her master's voice she hears.
And when at last her master waits
outside in the dark and cold.
for the hand of death to open the door,
that leads to those courts of gold,
he will here a sound through the gathering dark,
a little dog Angel's bark.